A car service

second to none
We're a family run business with family values that aims to exceed the highest expectations of even our most discerning customer.
Our ethos is one of continuous development – keeping up to date with the latest technological advances and providing the best possible value to our customers.
This, together with a personal and friendly staff, superb service, extreme attention to detail and great value for money ensures our customers return time and time again.
The Car Clinic is a one stop shop for all your automotive needs from valeting, bodyshop repair, mechanical repair and servicing to wheel refurbishment and beyond.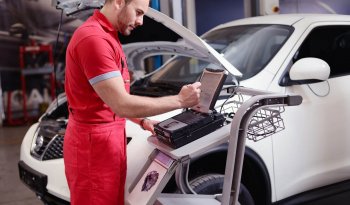 We aim to be a leader in the automotive repair industry
FIND OUT MORE

01534 660066

Budget Service

(2 Hour)

Interim Service

(4 Hours)

Full Service

(6 Hours)

When

6 months or

6,000 miles

12 months or

12,000 miles

24 months or

20,000 miles

Vehicle Interior

Check instruments, gauges, warning lights

Check horn

Check windscreen wipers

Check seat belts

Reset service light

Check interior lights

Check Adblue/Eolys warning light

Check clutch operation (manual only)

Hybrid system diagnostic check (hybrid/electric only)

Check engine diagnostic codes

Check climate control/ air con system

Cabin dust/combination filter replacement

Vehicle Exterior

Check exterior lights & lamps

Check doors – operation and condition

Check boot – operation and condition

Check fuel cap – operation and condition

Check mirrors – operation and condition

Pre-Alignment Check

Full tyre inspection (tread, inflation check and correction)

Check steering, suspension linkages and ball joints for wear, damage and condition

Suspension – check shock absorbers & springs

TPMS inspection

Under the Bonnet

Check oil leakage

Top up windscreen washer fluid

Check battery

Check battery wiring

Test electrics (battery, alternator, starter motor)

Check coolant level (strength and condition)

Inverter Coolant - strength and condition (hybrid/electric only)

Visual inspection of high voltage cables for external damage (hybrid/electric only)

Check radiator and coolant hoses

Check bonnet catch operation

Check brake pipes & hoses

Check power steering fluid & top up (if required)

Check auxiliary drive belt and adjust (if required)

Replace air filter*

Check brake fluid (boiling point and condition)

Check timing belt, replacement intervals and advise

Check and replace spark plugs*

Replace coolant and flush system

Under the Vehicle

Visual brake check

Check exhaust system and mountings

Check fuel pipes for routing, damage & corrosion

Check engine, transmission and rear axle Train Drive

Check drive shaft joints and gaiters for wear and damage

Full brake inspection (Wheels off)

Brake fluid replacement and bleed if necessary

Replace fuel filter if fitted externally

Final Checks

Stamp service book

Vehicle road test
Frequently Asked Questions
(FAQs)
By submitting this form you will be scheduling a service appointment at no obligation and will be contacted within 48 hours by a service advisor.